rev ronald
W

rites

Saturday 1 October 2016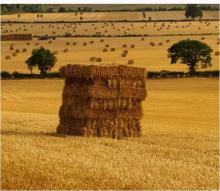 ... well most of it is anyway. The local farmers have been hard at work and now many of them are ploughing or cultivating and getting ready for next year. Farming seems to be constantly about looking forward. Hopefully, though, the farmers have enough time and space to actually stand still, look at the empty fields and the full barns, and say "thank you" for what they have achieved, and for how good today is.
Each one of us would do well to try to enjoy the present moment, rather than always looking forward to the next excitement.
Is it the brains and eyes of first class cricketers that somehow have the ability to slow down the approaching ball so that they are able to hit it? I guess Andy Murray can do this too – I sometimes cannot even glimpse what he is about to thwack back! (Pity about the Davis Cup though).
Anyway, see if you can find a quiet and still single minute, when you can just be, and look around in wonder at the fields, the trees, the beautiful villages, and most specially the people whom you love. Give thanks for all your blessings, and pledge yourself to help those less fortunate.