rev ronald
W

rites

Tuesday 16 August 2016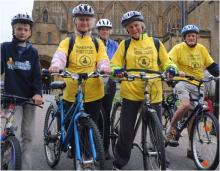 Supported by The National Churches Trust in partnership with Local Churches Trusts which care for historic churches, Ride and Stride crosses the counties of England and opens the doors to some of the most rare and unusual churches.
Each year thousands of people walk or cycle between 10,000 churches, exploring and enjoying the countryside from Cornwall to Northumberland.
The money they raise helps to save historic churches, chapels and meeting houses for future generations by helping to fund urgent repairs
All the churches in our Benefice will be open and manned on Saturday 10 September for this one day event. If you would like to help, or if you would like to sponsor a Rider or Strider and so help your local church then please give me a ring on 780 555.