For details of all of the services and events taking place at the church please visit A Church Near You.
The Carice Singers
Sibford
Wednesday 13 February 2013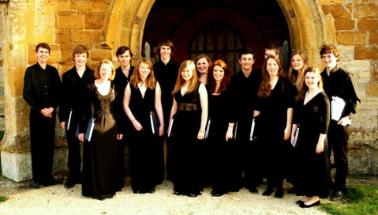 In Holy Trinity Church at 7.30pm on Saturday 6th April the Carice Singers will present a most exciting programme of beautiful music by J.S.Bach, Percy Grainger, Charles Stanford, John Tavener, Ralph Vaughan-Williams and Gustav Holst.
This superb choir consists of some of the UK's most talented young singers aged 17-21, who are all anticipating careers as professional singers. Named after the daughter of Sir Edward Elgar, the Carice Singers strive to rein-vigorate England's rich musical heritage.
A demanding programme (...) was performed with considerable power and beauty of tone by the choir, who chose to perform some items not in the conventional formation but placed in isolated positions around the church, enveloping the audience with their sound, an ambitious idea which proved effective. (Brian Midgley)
This group performed (...) to a standard that would put many more experienced a choir to shame.
Tickets £10 from John Marshall, Gowers Close, Sibford Gower OX15 5RW. Tel: 780 348.
Don't miss it - they really are absolutely brilliant!
Please use the leaflet attached to pass the message on.