the ministry team
Revd Neil Bowler (Rector)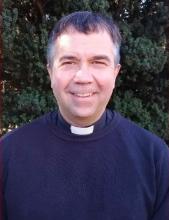 Dear friends,
       Well, what can I say about myself? I suppose I should start at the beginning; I grew up in a close knit mining community in South Yorkshire and on leaving secondary school I went to study for my first degree, which was in Law, at Nottingham. I then moved to live in York for a year to take my Law society final examinations (solicitors' exams). My time in York was made even more enjoyable because my landlady worked at the chocolate factory and would bring copious amounts of chocolates back for the students who lived in her house.(It goes without saying that I'm known now for having a sweet tooth.)
After qualifying as a solicitor, I worked for almost 10 years as a senior legal adviser in the South Yorkshire Magistrates' Courts. Whilst working in the court service I was asked by my then vicar whether I had ever thought about becoming a youth leader (he knew of my extensive experience delivering training and advising in youth courts) and so I became a youth leader in the church for four years. It was whilst leading a residential trip for a group of young people that one of the teenagers asked me why I wasn't a vicar? He had no idea what he opened up, because he had planted the thought in my head and the more I reflected upon it and prayed about it, the clearer it became; I discerned a sense of being called to become a priest. I went to see my vicar and he simply said; "I've just been waiting for you to come and talk to me about it."
I went to train for the priesthood at the College of the Resurrection in Mirfield. During my two years there I also studied for a degree in Theology at Leeds University and went on placements in Leicester and Romania. My curacy was in Doncaster before I moved to be the Rector of Whiston, which is a large urban and rural parish in Rotherham. During my time at Whiston I was asked to be one of the Bishop's educational advisors on national advisory panels and was also the Area Dean for Rotherham at a time of significant change. I then was asked if I would become the Vicar of Ranmoor in Sheffield, a very large church. During my time in Sheffield I was appointed as the Bishop's advisor in spirituality and was asked if I would become an honorary Canon of Sheffield cathedral. Having had all these experiences in ministry I discerned that I felt a calling to experience ministry in a multi parish setting and so I became the assistant priest of the Silverwood mission partnership, made up of seven churches across a much more rural setting. Alongside this I also wanted to gain even more experience of the life and workings of a school and so I also became an advanced learning support worker in a local primary school. All of these experiences have brought me to this exciting moment in my life and ministry, preparing to be your Rector.
I'm someone you will very quickly find out who enjoys hearing laughter and being joyful. I also am someone who places a great deal of importance upon the pastoral care that I can bring as your Rector. Whilst also being someone who brings enthusiasm and energy, as well as a 'can do' sort of an attitude, all of this done in a prayerful and reflective way. I'm excited by the prospect of being the Rector for all the people who live, work and are educated in all of the parishes in the Benefice. Be prepared then to receive a regular visit from your Rector, to see your Rector visibly in all aspects of community life and to have someone as your Rector who will love you and care for you, who will be alongside you in times of sadness as well as share in times of joy.
If I'm not out and about around the parish, then I may well be digging in the vegetable patch at the Rectory, as I enjoy gardening, or maybe you'll find me with my sketchbook in hand as I enjoy painting and writing, or with a pair of binoculars going for a long walk as I'm also a member of the RSPB.
I do hope that what I've written gives to you just a little bit of a sense of who I am.
Love and prayers,
Revd Neil
Contact Neil by email: revneil@wykehambenefice.org.uk or telephone 01295 788 005
Revd Canon John Tattersall (Associate Priest)
John Tattersall is a non-stipendiary minister, and has been an Associate Priest in the benefice since June 2007 when he was ordained, having previously been a church warden in Swalcliffe parish.
He is a retired chartered accountant who now works part time as a non-executive director on the boards of a number of companies in addition to his duties in the benefice. He is also Chair of the Diocesan Board of Finance, responsible for oversight of the finances of the Diocese of Oxford, a trustee of the Community of St Anselm at Lambeth Palace, and Chair of the Court of the Royal Foundation of St Katharine in Limehouse, a Christian retreat and conference centre.
John read Economics at Cambridge University, and subsequently studied theology at the South East Institute for Theological Education (now St Augustine's College of Theology).
In 2021, in recognition of his services to the Church, he was made an Honorary Canon of Christ Church, Oxford, the cathedral in which he was first ordained as a deacon.
Contact John at Abingdon House, Park Lane, Swalcliffe, Banbury, OX15 5EU. Tel: 01295 780 283, 07711 733 978 or by email revjohn@wykehambenefice.org.uk
Jocelyn Merris (Licensed Lay Minister)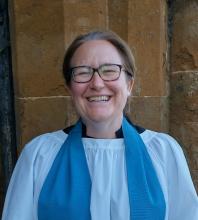 I grew up in West Cumbria and after my Maths degree in London went to Nepal to teach in school which was jointly run by two mission organisations. I have taught in a variety of state and independent schools - day and boarding and in my last job ran a girls' boarding house for 5 years. Since 2017 I have been Head of Maths at Bloxham School and I also run the Gold Section of the Duke of Edinburgh Award scheme and help with the Bronze section.
I was first Licensed as a 'Reader' in 2005 in Coventry diocese and have served in both rural and urban parishes. I am also an Archdeaconry Advisor for LLM (Licensed Lay Ministry) for Deddington, Chipping Norton, Witney and Woodstock deaneries.
I try to keep fit by going to the gym and attending spinning classes, but sadly I like my food more than such things. I live in Bloxham, not on the school site and after living in boarding schools for over a decade the novelty of having a letter box or controlling my own heating has not yet worn off. In my holidays I enjoy spending time with family and friends and I also assess Gold Duke of Edinburgh Expeditions in the Lake District .
Contact Jocelyn by email: jocelyn@wykehambenefice.org.uk